Links
★
Official LM.C Links
★
★
LM.C Fan Group Twitters
★
★
Official LM.C Fanmail Address
★
★
Where to find us
★
★
SUPPORT LM.C
★
Buy from YesAsia
Buy from CD Japan
All images and content on this forum is © to it's respective owners/creators.
All official images of LM.C and their Logo are © to LM.C and Pony Canyon.
All images that are not owned by LM.C and Pony canyon are © to their original creator.
No copyright infringement is intended by the use of official content on the site.
We hold NO responsibility for what our members post on this website and we respect their right to freedom of speech.
If there are any problems with content use, please contact the forum owner (Kei) at madlm.cfamily@gmail.com and we will try and resolve the issue as quickly as possible.
コンテンツの利用に問題がある場合は接触 madlm.cfamily@gmail.com 。私たちはできるだけ早く問題を解決します。
私たちの悪い日本人して申し訳ありません。

Hi!
This was my first time of making a cosplay of him. It was from Bell the Cat. Even though it was incomplete up to then (since some things were retained by Customs for some days), I could make it without problems, and I had fun a lot!
 This was on Anime Expo Winter 2013 in Santiago de Chile.
Spoiler:
Bonus!
Getting attacked
Spoiler:
With Deadpool
Spoiler:
I hope I can improve it
bye!
Wow~~ I think that's already a very good cosplay of maya!! (^-^) It's very cute~~ !! (;3;)
Fan





Posts

: 4


Stars

: 35


Reputation

: 0


Join date

: 2013-06-24


Age

: 25


Location

: Belgium



Super cute!!! it looks really really good~
Admin





Posts

: 676


Stars

: 1740


Reputation

: 28


Join date

: 2011-03-09


Age

: 25


Location

: LONDON/UK



Thank you!
I'm so happy that you liked it
Sorry for making double post, but I have another photo from Animefriends. The con was disappointing. However, I had fun a lot with my friends
Kissing Jake the dog (Adventure Time)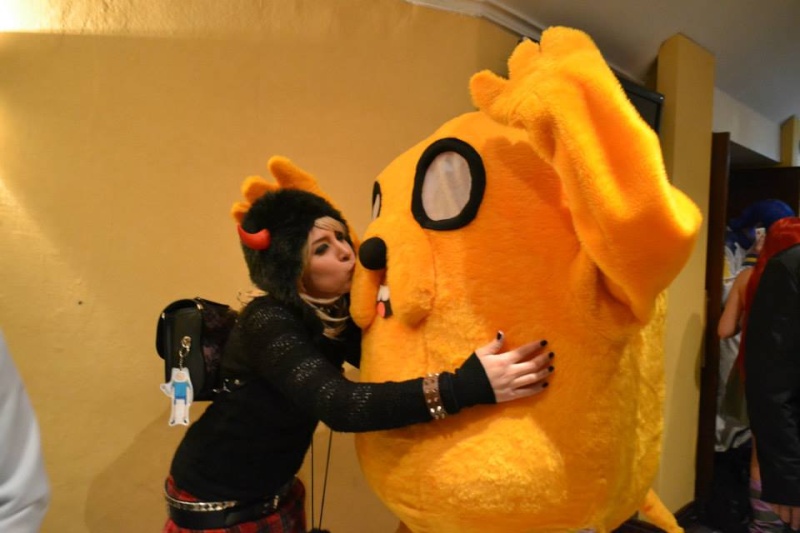 Similar topics
---
Permissions in this forum:
You
cannot
reply to topics in this forum