Links
★
Official LM.C Links
★
★
LM.C Fan Group Twitters
★
★
Official LM.C Fanmail Address
★
★
Where to find us
★
★
SUPPORT LM.C
★
Buy from YesAsia
Buy from CD Japan
All images and content on this forum is © to it's respective owners/creators.
All official images of LM.C and their Logo are © to LM.C and Pony Canyon.
All images that are not owned by LM.C and Pony canyon are © to their original creator.
No copyright infringement is intended by the use of official content on the site.
We hold NO responsibility for what our members post on this website and we respect their right to freedom of speech.
If there are any problems with content use, please contact the forum owner (Kei) at madlm.cfamily@gmail.com and we will try and resolve the issue as quickly as possible.
コンテンツの利用に問題がある場合は接触 madlm.cfamily@gmail.com 。私たちはできるだけ早く問題を解決します。
私たちの悪い日本人して申し訳ありません。


Hello guys!!!

How are you?
Well, I was thinking in the LM.C world tour and what beautiful it was. So I imagine that everybody have special things for the concert. And one of the special things ( I guess) are the VIP badges.

So I realize that in every country were different.
So I really want to know how were the VIP badges for other countries.
( I'm really curious
) Sooo....
Here is the photo of Mexico badge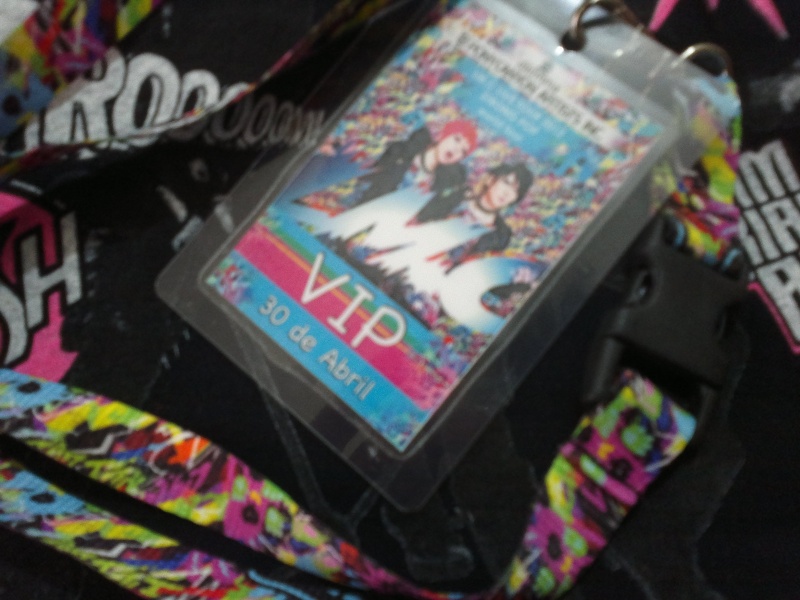 Please everybody share your VIP badges

Greetings from Mexico

★✩★✩★✩★✩★✩★✩★✩★✩★✩★✩★✩★✩★✩★✩★✩★✩★✩★


✩We are under the same stars✩
Fan





Posts

: 5


Stars

: 10


Reputation

: 0


Join date

: 2012-08-01


Age

: 21


Location

: Mexico



OMG I'm so jealous of that strap with it. I though UK would have that too and i was super excited about it then we just got a shitty 'twisted records' one. and the pass itself was crappily made D<
UK sucks with stuff like this. (at MYV VIP we got promised VIP laminates and didn't even get them lol)
well, here's mine. (everyone else's is so much nicer I'm sure)
Admin





Posts

: 676


Stars

: 1740


Reputation

: 28


Join date

: 2011-03-09


Age

: 25


Location

: LONDON/UK



In France it was an ugly simple yellow strap too. I wasn't VIP, I've just seen the other.

They were also super excited with the South America SP strap ;_;

not to mention the big mistake on the shirt...
★✩★✩★✩★✩★✩★✩★✩★✩★✩★✩★✩★✩★✩★✩★✩★✩★✩★
/!\ Beware /!\ Bad English below. Don't laugh xD
SUPER DUPER MADIE





Posts

: 267


Stars

: 308


Reputation

: 3


Join date

: 2011-03-15


Age

: 31


Location

: Paris, France





Similar topics
---
Permissions in this forum:
You
cannot
reply to topics in this forum